Here are a couple more recipes that I made this week.
The first one is one of my favorite and easiest salads.  I brought this to a party this weekend.  I got this recipe from my favorite store, Trader Joes.
Harvest Grain Blend Shrimp Salad
Here are the ingredients.
1 package of the Harvest Grains Blend  mix
1 bag of frozen Fire Roasted Bell Peppers and Onions
1 bottle of Balsamic Vinaigrette
1 package medium cooked Shrimp with tails off (can be omitted or substituted with chicken or pork)
green onions (to taste, I like a lot)
First I make the grains according to package, then I throw the rest in and mix.  That's IT!!!!
It can be served warm or cold.
Mystery Soup
This next recipe is kind of a made weird made made-up one is really tasty!
When I was shopping at a local Mexican grocery store by my mom's house, I found this package.  I was not sure what to do with it…..I was thinking soup.
I took the package apart and this is what I found.
Cauliflower
Cabbage
Green Beans
Carrots
Corn
Zucchini
Limes
Celery
Cilantro
Potatoes
A mystery item (not sure what it is)
I just put it all the my food processor and added garlic, salt pepper and homemade chicken broth and cooked it until done.
Yummmmmy!!!!  It turned out great!!!  I would of never of thought to mix those items together and it was great!
I will defiantly be making this again. (Especially because I bought two packages of this, lol.)
Both of these meals were so easy, tasty and healthy!!!!
Have you ever tried anything like this before?
Have a great week and don't forget to enter my EARTH DAY GIVEAWAY!!!! It ends tomorrow at noon!
Please visit my online Shaklee site.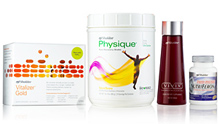 Linking to these PARTIES!