Welcome to my series called, "Organize Your Life"!  This is the 13th week!  Are you feeling organized yet?  I know I am! :)  I love having a weekly challenge to keep my going!!
HOW TO ORGANIZE YOUR CRAFTS
Hello everyone!  We just finished organizing our papers and now we are moving on to the fun part, organizing our THINGS!!!  Oh, yes!  We all have way too many things, don't we?  Well, let's go through them, sort, toss, donate and organize them!  Woo Hoo, how does that sound?  I am excited too!  I could always use a little motivation to simplify!
This week, we are organizing our CRAFTS!!!  Some of you only have a little and for others, craft supplies might be taking over!  I think our collection keeps growing, ha!  As the kids get older,  they like to try new things out which I love!  I just need a place to keep it all!
I actually posted this last year but I have to be honest, it still looks the same except I added a little to the bottom cabinet.  I also replaced a couple of things that we used up.  I keep everything in labeled, clear bins.  Everything has a spot, so basically, THERE IS NO ROOM FOR SHOVING!  I have caught my husband standing there trying to find a place to shove something and he can't.  He spent more time trying to squeeze crafts in the wrong place rather than just reading the label and putting it away, lol!
After, I fit everything in how I wanted to, I made labels for each bin.  I used address labels and love how it turned out!
I love that the kids can see through the bins!
Now everything has a spot and I can just take out one bin at a time.
I even saved a spot for easy access to some books, coloring books and color wonder/explosion books.
This is the lower cabinet.  On the top shelf, I have a bin for each child with their own school/activity books.  They love having their own bin.  At the beginning of the day, I just have to bring out 2 bins and the  kids always know where keep their stuff.
I also keep extra supplies in here.
Construction paper and scrapbooking supplies are also kept in here.
Here is how it turned out!  I am so happy!!!!
My house did get messy while we were trying to get organized, lol!  But the kids loved helping me!
Challenges For This Week!
Gather Supplies.  Do you have crafting supplies all around the house?  If so, go around and collect everything.
Sort/Toss.  Check all your supplies and toss all the bad/old supplies.  (ex: old paint, dull scissors,)
Categorize. Sort supplies by category.  (ex: stamping, painting, stickers)
Get Containers.  Decide what you are going to store everything in.  You can use bins, baskets, etc.  Don't forget to label them! :)
Storage Space.  Find a place to keep your containers.  I use a kitchen cabinet but you can use a closet, under the bed, a craft station, etc.
For some of you, this will be an easy challenge, and for others, it will he difficult… but NEEDED!
Please follow the steps above and have fun with it!
How do you organize your crafts?
Where do you keep them?
What do you keep them in?
Please feel free to link up any organizing post here and to help spread the word, can you please add my button to your blog?  Thanks so much! :)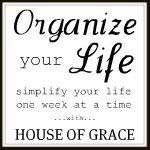 Have a great day!