Welcome to my series, Organize your Life!
This week I organized all the back to school items!
Last week, I did all my back-to-school shopping and it feels great! Well, I really only had to buy for one because Michael didn't need anything for his pre-school.
I tried doing a one-stop-shop at Target and I was pretty successful except for a special clay they needed and I didn't like all their folders.
When I got home, Grace helped me go through everything.
I grabbed my list and we double checked everything.
She loves to help me!
Since, there was a sale, I bought extra supplies for our craft cabinet.
I was having a really hard time decided what lunchbox to get. I really wanted this one but I am going to start with this regular one and see how it goes. It looks cute and it's pink so I am sure it will be fine for now.
Once, we organized everything, we placed a lot of the items neatly into her backpack (which I found at a garage sale this spring for $1). I put the rest back into the Target bags, tied them and place them into a closet until school starts!
It feels great to be done! I already have her uniform and shoes ready also! I bought her new socks but I we are going to use the same shirts, jumper and sweater from last year.
As for Michael, I got him a folder and backpack but he doesn't have a dress code so that is easy.
I am sure something else will come up so that is why I am trying to do what I can do now.
To be honest, I am worried about making her lunch everyday! This is totally new to us and I am going to have to get used to one more thing to do. I will probably make her lunch at night. Mornings are going to be a little crazy this year! I will have to get Grace and Michael totally ready to go and I need to drive them to school daily. I also try to have my workout clothes on so I can head to the gym right after drop off. I am just trying to take advantage of the last couple of weeks with the kids.
We have been busy reading (she loves her new chart), swimming and playing with friends. We are going to the zoo tomorrow and still have a couple of other events planned so we are excited about that!
How is your summer going? Are you ready for school to start?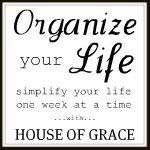 What are you organizing this week?
Have a great day! :)
Bonnie